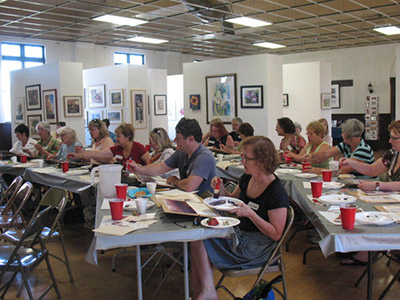 Teachers Painting at 2011 Teachers' Day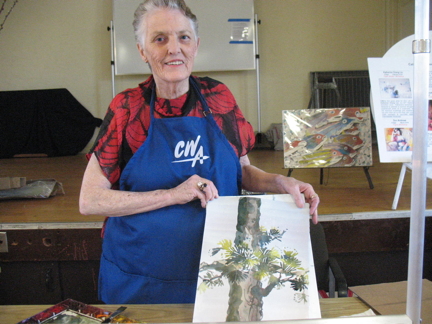 Charlotte Huntley doing a demo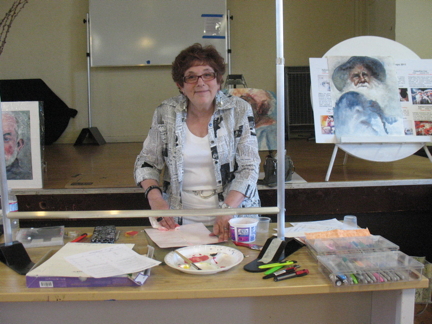 Myrna Wacknov doing a demo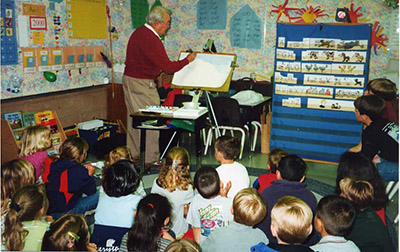 An Outreach Demo by Wayne White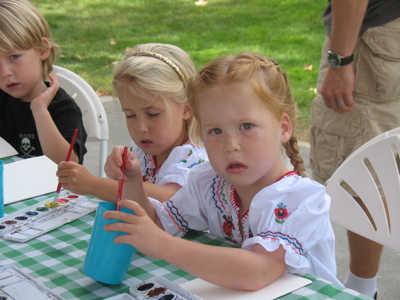 At Oktoberfest in Concord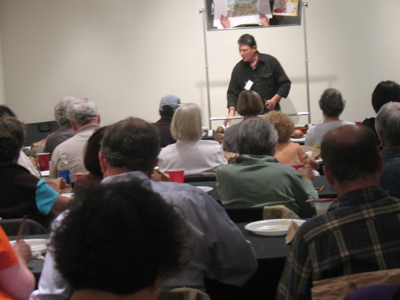 Fred Kling's Demo at the Presidio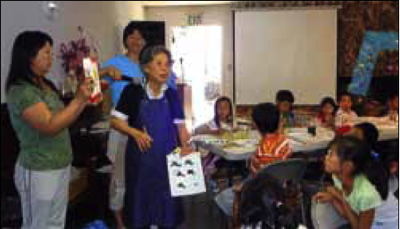 Chinese brush demo by Helene Yu-June Rice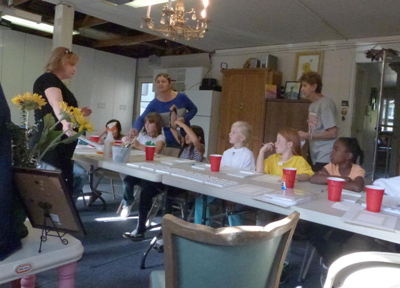 Irina Sztukowski presents the Outreach project to 10 Brownies of Clayton, CA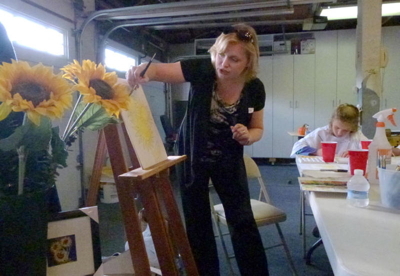 First you draw a big circle like the sun for your sunflower painting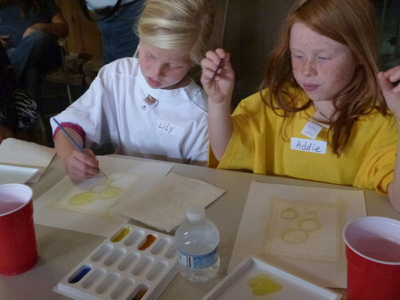 The girls work diligently. The sunflower petals, like rays of the sun, are painted in yellow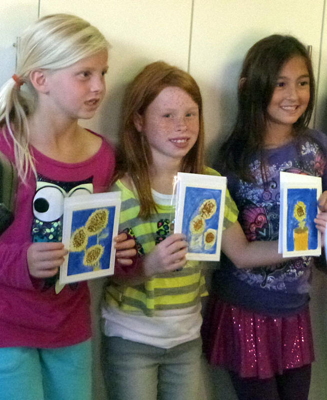 Everyone is delighted with their paintings finished as mounted cards.
Outreach Program
COMMUNITY OUTREACH
The California Watercolor Association (CWA), a prominent water media organization, is one of the largest and most active in the country. CWA's mission is to create, foster, and sustain artistic growth and interest in water media. These goals are accomplished through our community outreach program, which includes educational programs for artists of all ages and all levels, workshops, public exhibitions, and scholarship programs. CWA members include professional artists, teachers, and students with a compelling interest in painting.
ON GOING PROGRAMS
CWA's current program serves veterans in Oakland and Martinez by providing them monthly and bi-monthly watercolor sessions. The Martinez group are both inpatient and outpatient. Most of these vets are in the hospital and suffer disabilities both mental and physical. CWA volunteers teach and often assist one-on-one this community the art of water media.
The Oakland group is all outpatient and the vets come from as close as across the street to as far as the Mt. Lassen area. They are, by in large, vets of the Vietnam war and have been in occupational therapy program together for many years. This group explores watercolors with a CWA volunteer teacher and assistant.
ADDITIONAL OUTREACHES
Families experience water media with CWA volunteers bi-annually at various institutions. For example, CWA participated in the "Pollination Celebration" at the Science Academy in Golden Gate Park. CWA volunteers both painted butterflies in the rainforest and assisted families with children in painting butterflies.
CWA sponsors awards for high school students at the Alameda County Fair.
SUPPORT OUTREACH
CWA volunteers make these programs happen. Volunteer to serve our vets. Volunteer and bring CWA to a greater community. If you are connected to an institution that would enjoy and host an Outreach event, please contact us at outreach@californiawatercolor.org.
ARTICLES
December 2017 Newsletter Outreach Article:
---
A special thanks to this lovely group of ladies for devoting their time to this outreach program.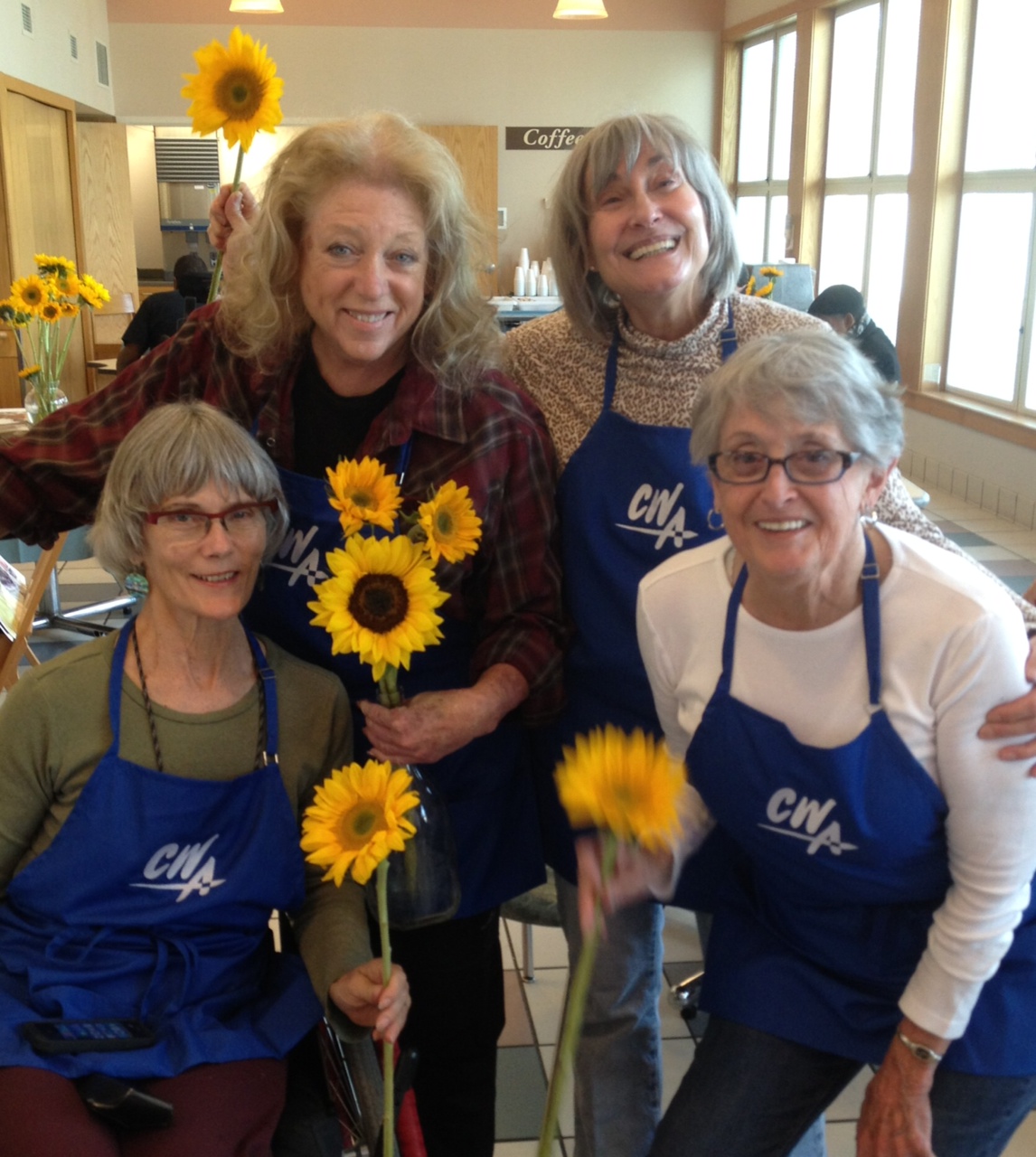 Sheila Cain, Georgann Zaro, Victoria Bianco and Marianne Elliot
If you are interested in joining the Outreach volunteers, please send an email at outreach@californiawatercolor.org.
---
Please see past Outreach articles by clicking on the dates below.
2018


2017
Outreach 12-2017
Outreach 11-2017
Outreach 10-2017
Outreach 9-2017
Outreach 8-2017
Outreach 7-2017
Outreach 6-2017
Outreach 4-2017
Outreach 3-2017
2016
Outreach 11-2016
Outreach 9-2016
Outreach 8-2016
Outreach 7-2016
Outreach 6-2016
Outreach 4-2016
Outreach 3-2016
Outreach 2016 SF Academy of Science

2015
Outreach 11-2015
Outreach 10-2015
Outreach 8-2015
Outreach 4-2015

2014
Outreach 11-2014
Outreach 8-2014
Outreach 4-2014
Outreach 2-2014
2013
Outreach 12-2013
Outreach 11-2013
Outreach 10-2013
Outreach 9-2013
Outreach 8-2013
Outreach 7-2013
Outreach 6-2013
Outreach 5-2013
Outreach 4-2013
Outreach 3-2013
Outreach 2-2013
Outreach 1-2013