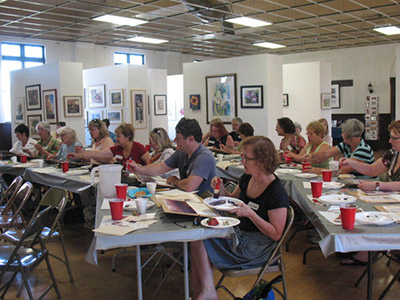 Teachers Painting at 2011 Teachers' Day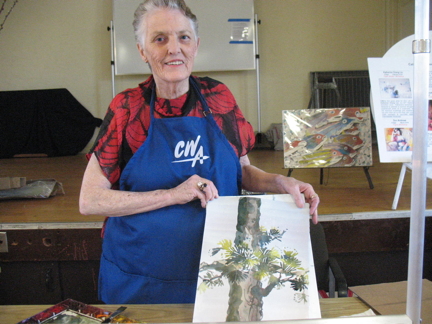 Charlotte Huntley doing a demo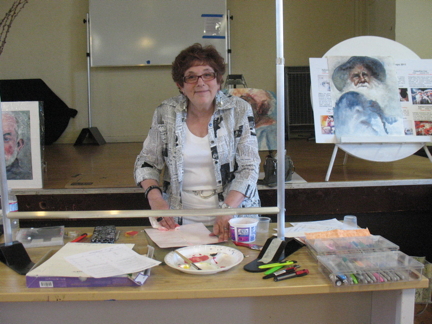 Myrna Wacknov doing a demo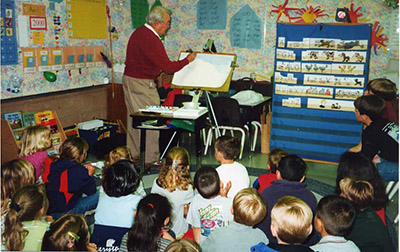 An Outreach Demo by Wayne White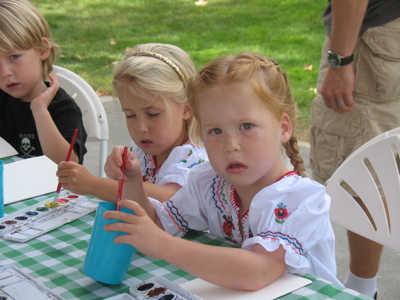 At Oktoberfest in Concord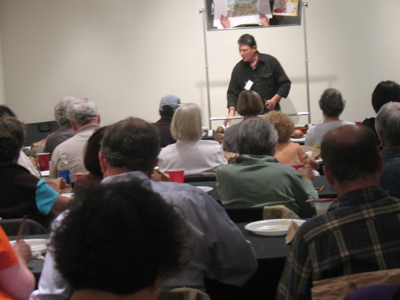 Fred Kling's Demo at the Presidio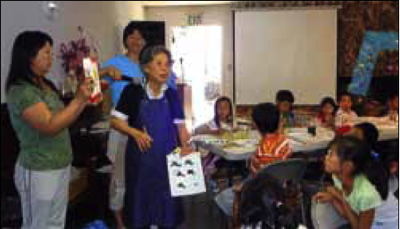 Chinese brush demo by Helene Yu-June Rice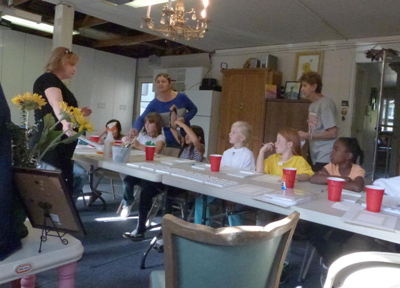 Irina Sztukowski presents the Outreach project to 10 Brownies of Clayton, CA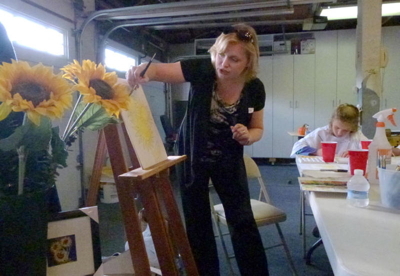 First you draw a big circle like the sun for your sunflower painting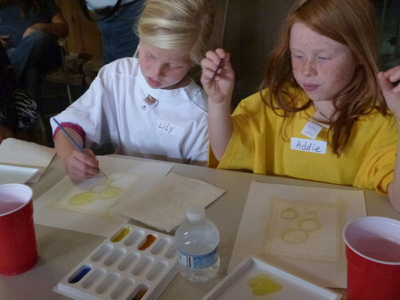 The girls work diligently. The sunflower petals, like rays of the sun, are painted in yellow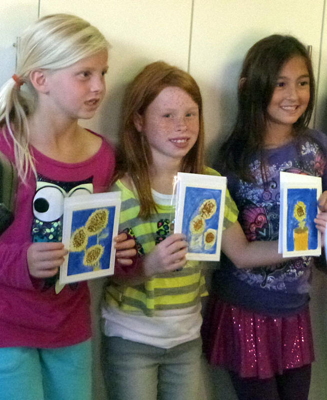 Everyone is delighted with their paintings finished as mounted cards.
Outreach Program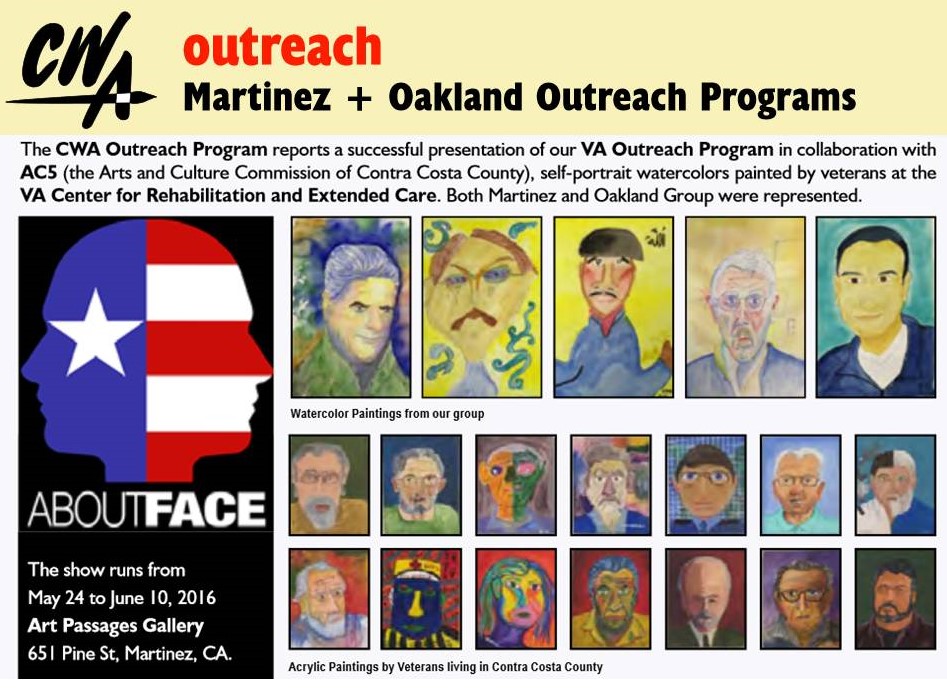 The self-portraits featured here were created by veterans, during a California Watercolor Association outreach program presented through our partnership with the Martinez Veterans' Administration Recreation and Therapy departments. Portraits are an endless source of interest because of our human impulse to look at faces and try to see the character behind them.
The veterans' self-portraits are part of a larger program called About Face developed by the Arts and Culture Commission of Contra Costa County, Contra Costa Television, and Friends of AC5. About Face was intended to support confidence and creativity in veterans. The exhibit will travel throughout Contra Costa County, visiting libraries, Veterans' buildings, and the Governor's mansion. CWA was proud to participate in this outstanding community project.
CWA at the Walt Disney Family Museum April 13-14, 2013
CWA was invited to do a weekend of workshops, demonstrations and open studios for the famous museam in San Francisco's Presidio. Myrna Wachnov presented the workshop and CWA board members and committee volunteers provided the demonstrations and open studio time for many visitors to the museum. Thanks to all who participated in this great event to showcase CWA, especially president Karen Powers, who made this happen.
At the end of Saturday, Diane Disney expressed her great appreciation to Karen for our CWA participation. She also told Karen that 1700 visitors came to see working artists at WDFM - a record high!
See pictures below of CWA board members and committee chairs who volunteered their time at this great event. to host the visitors in action.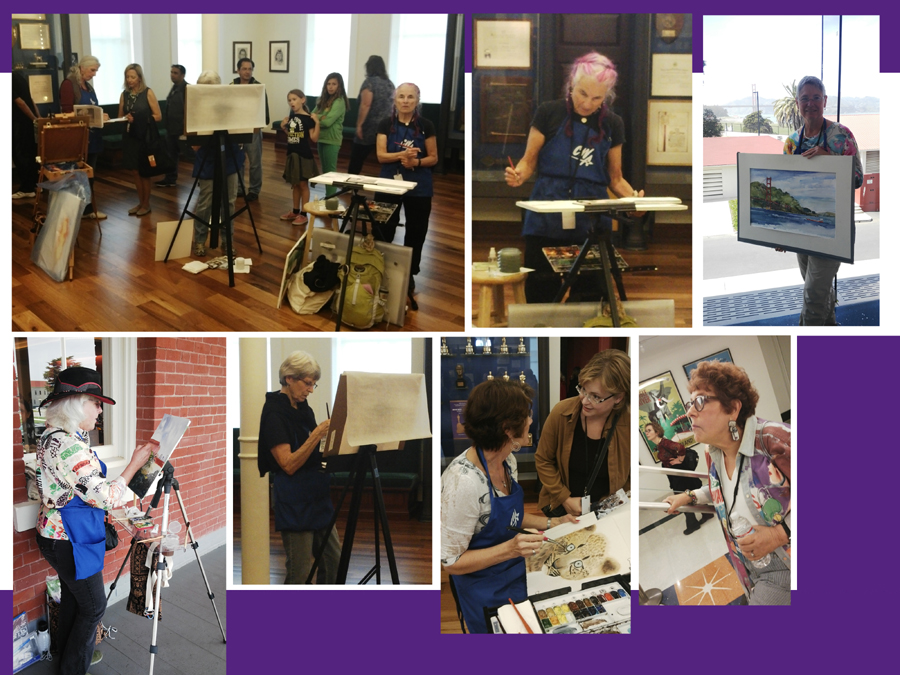 ---
Below are paintings from the Vets Art outreach.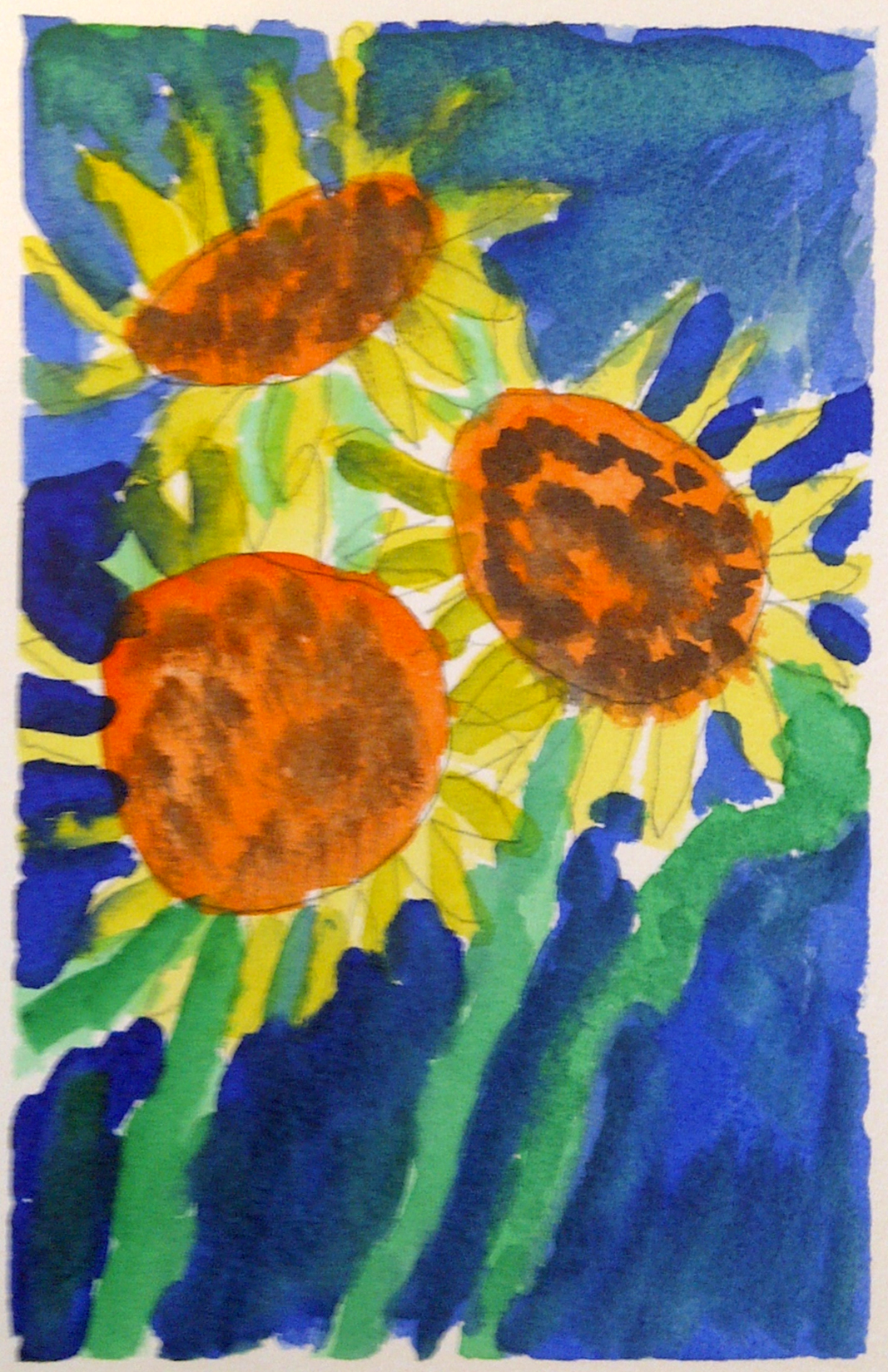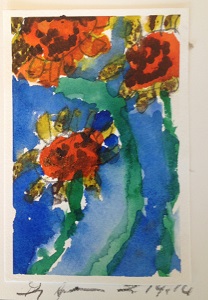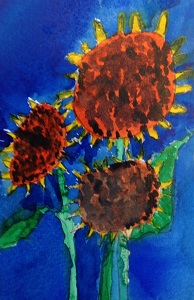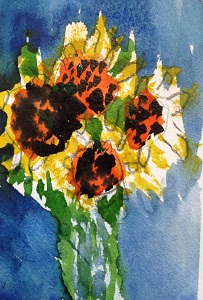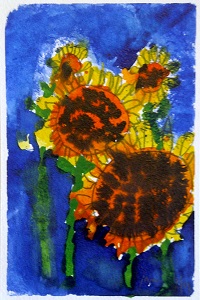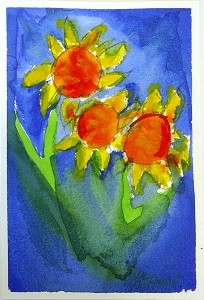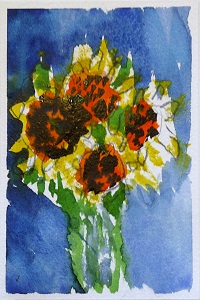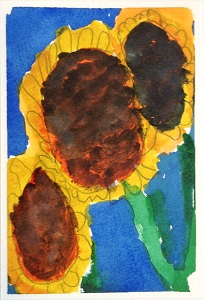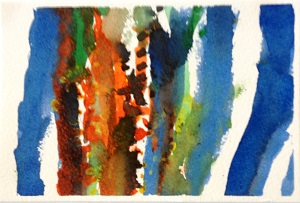 A special thanks to this lovely group of ladies for devoting their time to this outreach program.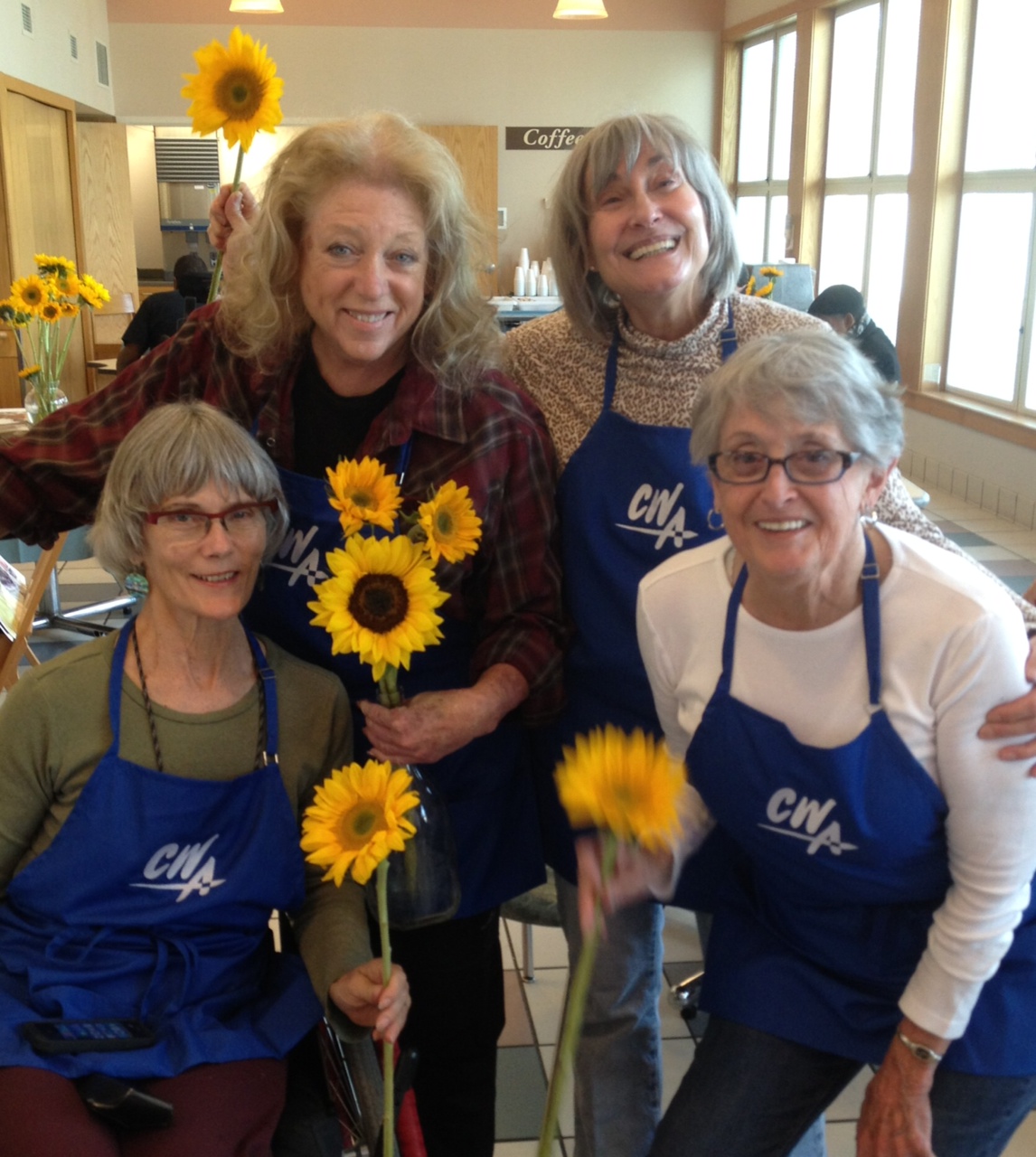 Sheila Cain, Georgann Zaro, Victoria Bianco and Marianne Elliot
---
Through its Outreach programs, CWA is committed to investing time, expertise and 15% of its members' art sales to student art education. Through the help of the Outreach Director and the Assistant Coordinating Director, the CWA artist volunteers teach and demonstrate the art of watercolor painting to students of all ages.Each year CWA participates in community art festivals, provides jurors to school art shows and donates money to organizations for art show prizes. At the end of the school year Outreach sponsors an all-day workshop especially for art teachers. Outreach also runs weekly workshops at CWA's annual National Exhibitions.
If you are interested in joining the Outreach volunteers, please send an email at outreach@californiawatercolor.org.