Workshops - Iain Stewart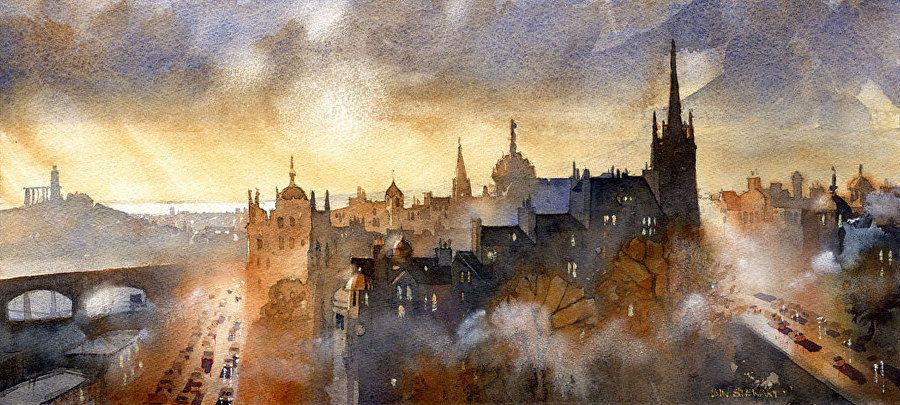 Iain Stewart - Painting Light in Watercolor
July 19-21, 2018 - 3 Days, Advanced Beginner to Advanced

Iain Stewart is a watercolor artist/illustrator and a signature member of the National Watercolor Society. His work has received numerous awards in international competition; Iain is a sought-after juror and workshop instructor in the US as well as abroad. His work has received top awards in international competitions. Iain relies on instinct a great deal and much of his work is done "alla prima" as he attempts to capture his initial vision. He focuses more on capturing the lighting and its influence on shape and value rather than faithfully representing the subject. Per Stewart, watercolor is uniquely suited for this task as "light" is reserved from the first brush strokes and must be protected throughout the painting process.
Stewart's workshop will explore the medium of watercolor in a relaxing and creative environment. His sole focus will be bringing your creativity to light and aid you in dispelling the myths of the difficulties of painting in this wonderful medium. Per Iain, given the right encouragement and understanding of the basic fundamentals, watercolor is a creative outlet unmatched in its ease of use, cost of materials, and pure enjoyment of artistic expression.
Through demonstrations and critique, Iain will help students anticipate and prepare for the challenges of painting in watercolors. He relies on simplification through sketching, graphite value studies, and preliminary color studies. This workshop is intended to provide an understanding of how to paint in watercolor while avoiding common mistakes, by creating a step-by-step road map that can be used for painting any subject. More advanced painters are welcome to work from their own photographs, with individual guidance. The class setting is very relaxed and accommodating to all.
Learn more about Iain at his website: http://www.stewartwatercolors.com/
Workshop location: East of San Francisco, on the Walnut Creek/Concord border, at Cal State East Bay. Details.
Non Members Fee: $475.00 Members Fee: $415.00

To receive the Member Price, please log in, choose Workshops, then click the blue Sign Up Now button above. If you are not a CWA member, you may click the Sign Up Now button at any time.
Alternatively, you may print out the Registration Form, fill it out and mail it with your check to the name and address printed on the form.
---