2023 Signature Members Show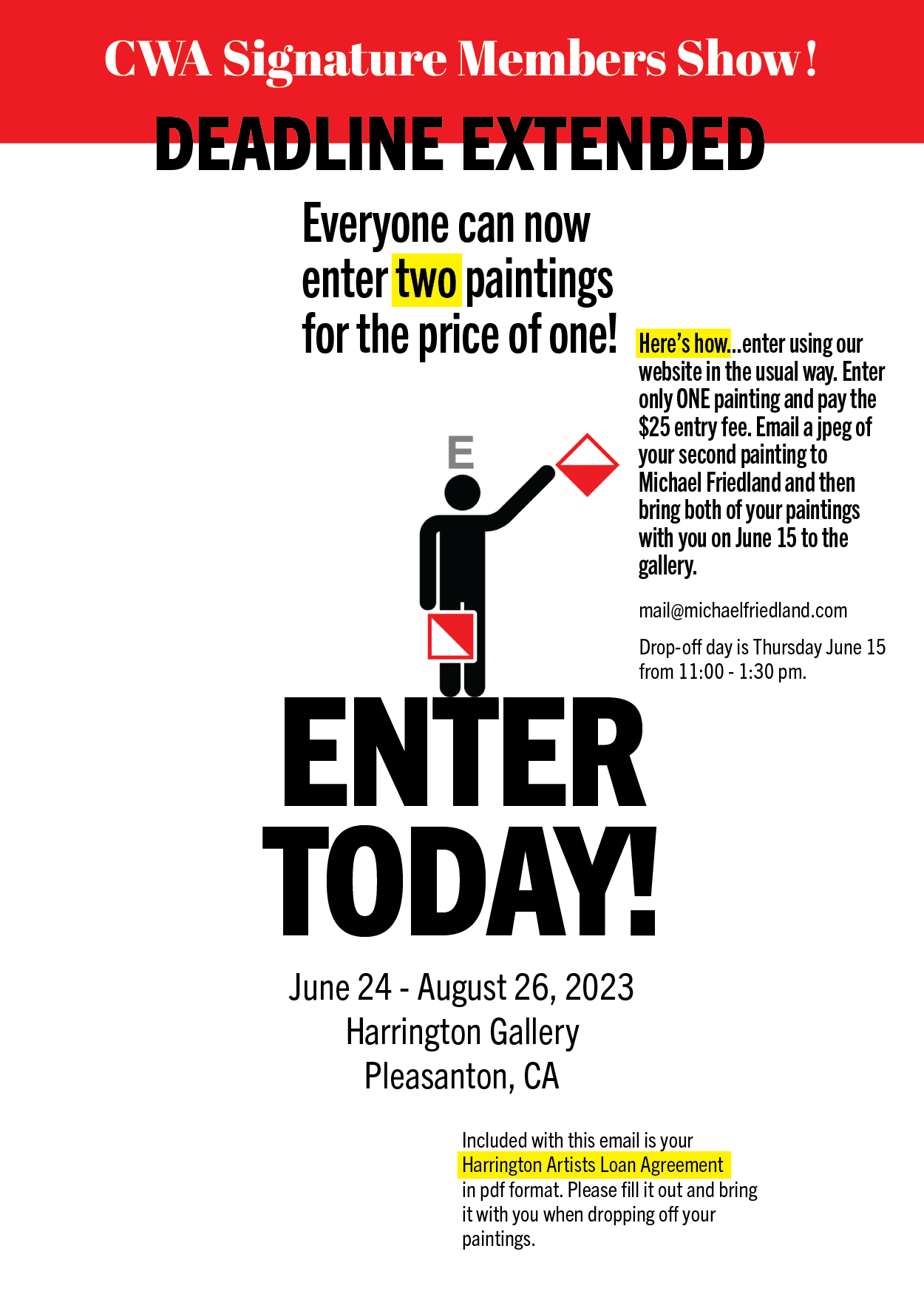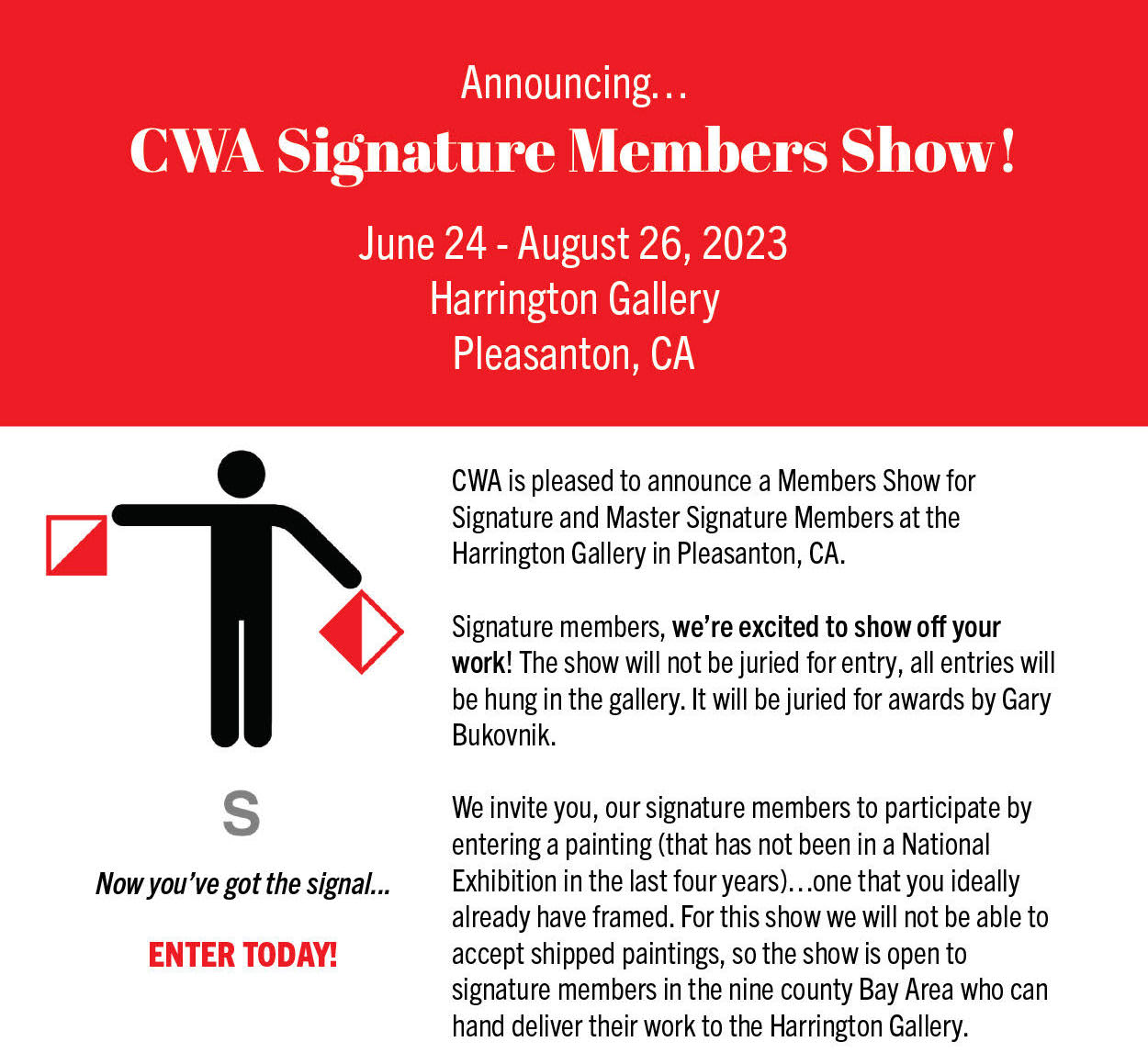 Show Calendar (Save these dates)
Deadline for entry is June 13.
Enter using our website home page under Shows/Exhibitions.
Drop-off day is Thursday June 15 from 11:00 - 1:30 pm.
Harrington Gallery, 4444 Railroad Ave. Pleasanton
Show opens on June 24…hours are:
Wed: 10 am - 5 pm | Thurs & Fri: 12pm - 7pm | Sat: 10am - 3pm
Reception at the Harrington Gallery on Saturday, August 19 from 1 - 3 pm.
Paintings can be picked up on Wednesday, August 30 from 11 am - 2:30 pm.
• • • • • • • • •
Awards
First, Second, Third Place and Four Honorable Mentions will be awarded.
• • • • • • • • •
Juror of Awards, Gary Bukovnik
Gary is one of the world's most highly-regarded painters of flowers. He paints with a sensual visual vitality and a vibrant sense of color, creating floral images of astonishing depth and intensity.
• • • • • • • • •
Eligibility
This CWA Members Show is open to all Signature and Master Signature members in the nine county Bay Area who can hand deliver their work to the Harrington Gallery in Pleasanton, CA.
Paintings do not have to have been painted in the last two years. Paintings must be two-dimensional and primarily watermedia on paper surface; Yupo, Tyvek are acceptable. Pastel or collage may be used as long as watermedia is the dominant medium. Digital media, photography, prints, or reproductions are not acceptable. The source material and composition of submitted work must be wholly original and not derived from any published images. Entries must be entirely the work of the artist, and not shown previously in a CWA National Exhibition in the last four years. No workshop or class work allowed. All paintings must be for sale. Work submitted to this show does not need to have been completed during the past two years. Subject matter that may be objectionable to the public (e.g., nudity, obscenity, and extreme political/religious views) will be disqualified.
• • • • • • • • •
Online Entries Only
All entries will be submitted via our website, californiawatercolor.org. Signature members may enter one digital image in jpeg format, resolution 300 dpi, with 1200 pixels on the longest side. Show only the image without mat or frame.
Log in to the Members homepage, choose Shows/Exhibitions, then Member Shows and choose 2023 Signature Members Show. Confirm your information, add your painting details and upload your image.
• • • • • • • • •
Entry Fees (non-refundable)
Entry fee is payable by PayPal, credit, debit, or individual account.
CWA Members: $25 for one image.
There will be a handling fee of $17.50 payable by check when delivering work to the gallery.
• • • • • • • • •
Size Limits
Minimum image size is 10"x14," maximum image size is 40"x40."
• • • • • • • • •
Framing
All paintings on paper, Yupo or Tyvek must be framed in simple, square-cornered frames ready for hanging and protected under acrylic (not glass). Frames MUST have a foam core backing, wire ends taped and should be ready to hang. No sawtooths, clamps or eye screws will be accepted. Mats (optional) must be white or off white. Colored liner mats are acceptable.
• • • • • • • • •
Sales
All sales will be made through the Harrington Gallery. There will be a 30% commission to the gallery on the sale of paintings.
• • • • • • • • •
Conditions and Liabilities
No work may be withdrawn before the end of the Show. CWA reserves the right to photograph artwork or copy images for promotional purposes. The submission of entries to this show shall constitute an agreement on the part of the artist to the terms and conditions as set forth in this prospectus.
• • • • • • • • •
Questions
Please email: mail@michaelfriedland.com
• • • • • • • • •