David Savellano 2021 Online Workshop
David Savellano, CWA – Vacation Journaling- Ink and Watercolor
July 17 -18, 2021 2 Days, 10 AM – 3 PM, Hours: 9
Advanced Beginner to Advanced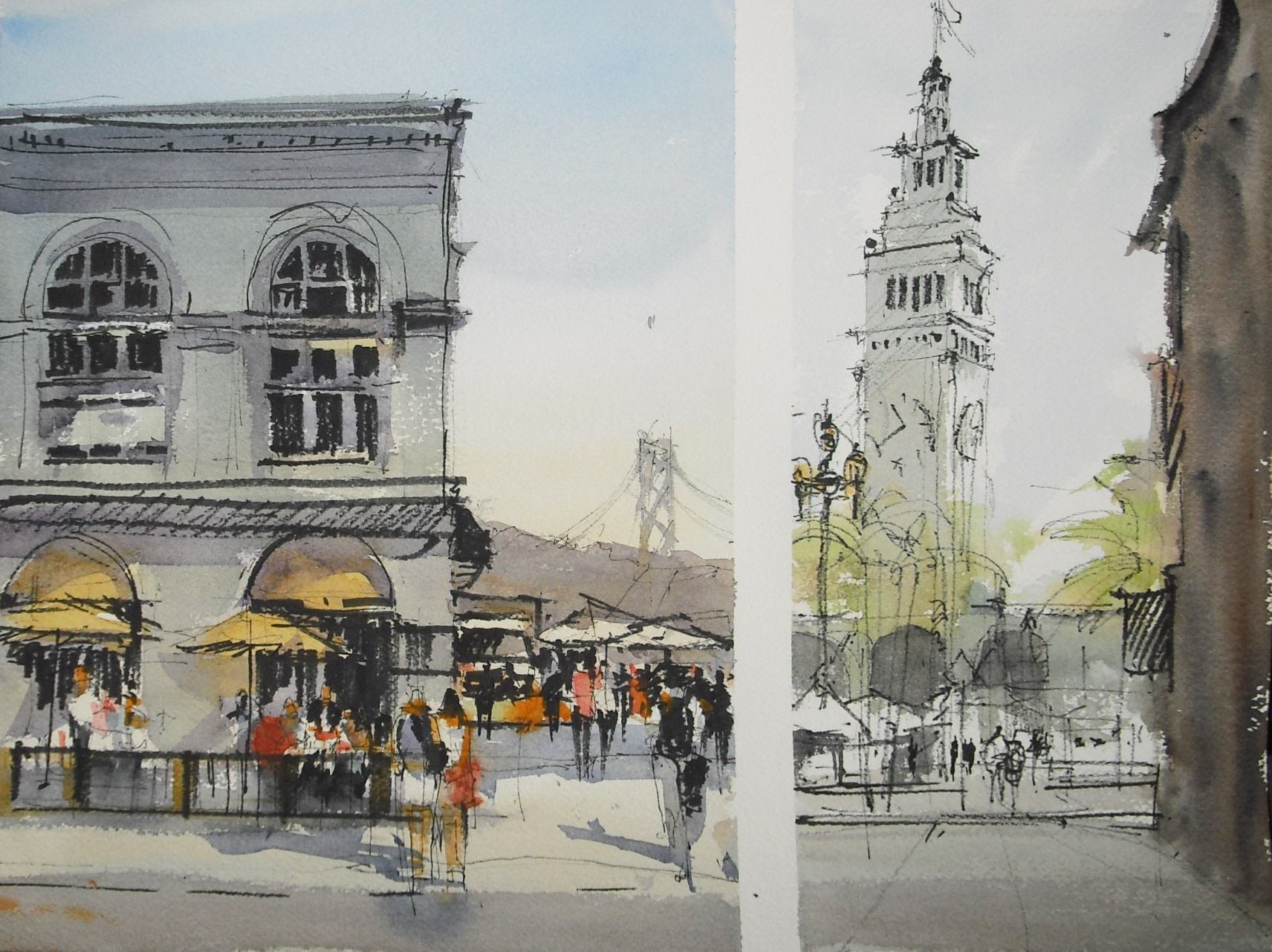 David Savellano is an artist who works primarily en plein air (outdoors), creating watercolor paintings that capture random moments—on the street, in nature, and wherever else his portable easel or sketchbook takes him. "I enjoy working outdoors because it's unpredictable and lends itself to a kind of spontaneity you just can't get in a studio," he says.
David lives in the Bay Area and is a native Californian, which is reflected in the sun-dappled streets and waterfront imagery that dominate his work. Although largely self-taught as a watercolor painter, he credits his 30 years as a practicing architect with having given him the drawing skills and strong sense of perspective that have elevated his artwork to a professional level.
David's passion for outdoor painting isn't limited to his own sketches and paintings, he also teaches it, offering classes distinguished by their intimate size and the generous amount of personal instruction he provides. His expert instruction enables students to improve their artistic skills and knowledge.
Demo: June 17, 2021 CWA General Meeting on Zoom
Workshop Dates: July 17-18, 2021 - 2 days, Saturday and Sunday, 10 am - 3 pm
Instruction Hours: 9
Recording Available: Yes
Skill Level: Advanced Beginner to Advanced
Registration Fees: Non-Members $210 , Members $150
Artist Website: David Savellano
Saturday, July 17, 2021 - Sunday, July 18, 2021
19 places available.
10:00 AM-3:00 PM
---
To receive the Member Price, please log in, choose Workshops, then click the blue Sign Up Now button above. If you are not a CWA member, you may click the Sign Up Now button at any time.
Alternatively, you may download and print out the Registration Form, fill it out and mail it with your check to the name and address printed on the form.
---