Workshops - Joseph Zbukvic (2 San Francisco)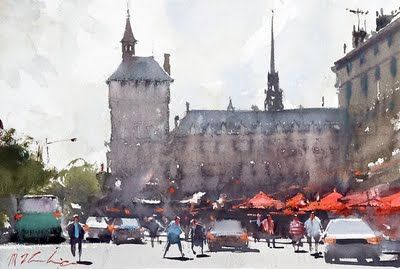 Joseph Zbukvic | 3 Days | Sept 18-20 San Francisco | Mastering Mood & Atmosphere in Watercolor| Intermediate-Advanced
Joseph Zbukvic is an acknowledged master of watercolor painting. His impressive achievements are due to his ability to transform any subject into visual poetic language. Joseph's works cover a wide variety of subjects; his sensitive, lyrical and atmospheric paintings are valued by people and galleries all around the world.

With stellar drawing skills and artistic abilities, Joseph is proficient in any medium, but it is his passion for and mastery of watercolors that has led him to become widely recognized as one of the leading watercolorists in Australia. While Joseph is greatly admired for his soft moody impressions of rural life, he also produces strong urban scenes and powerful equestrian images. He has always had a deep connection and affection for the laborer and the common man and it is these works that are also his finest paintings ever produced in watercolor. Per Joseph, "all of my treasures have a story to tell and looking at them can often lead me on a journey resulting in the choice of my next painting subject."
For those in search of greater insight into the magical medium of watercolor, this workshop will address all aspects of successful painting, using frequent demonstrations and detailed analyses. From simpler compositions of seascapes and landscapes to street scenes, interiors and portraits, you will learn how to recognize major shapes, draw, understand tone, place figures in your work and master techniques from dry brush to wet in wet. Joseph will explain his techniques for painting into light, for creating a variety of edges from soft to hard, and plus more techniques to help you reach new artistic heights. Joseph is a very helpful and encouraging tutor but participants do need to have good basic skills in drawing and handling watercolor for this workshop.
Joseph's credits include numerous major awards, and he has had over 40 solo shows in Australia, the UK and the US. His book "Mastering Mood and Atmosphere" was a best seller and Joseph also has released very successful instructional DVDs.

CWA Members $695, Non-CWA $750 for each 3 day class. Intermediate/advanced. For more information on Joseph, please see his website at http://jzbukvic.com/.
Click HERE for the materials list for this class.
Non Members Fee: $750.00 Members Fee: $695.00

To receive the Member Price, please log in, choose Workshops, then click the blue Sign Up Now button above. If you are not a CWA member, you may click the Sign Up Now button at any time.
Alternatively, you may print out the Registration Form, fill it out and mail it with your check to the name and address printed on the form.