Workshops - Mary Ann Beckwith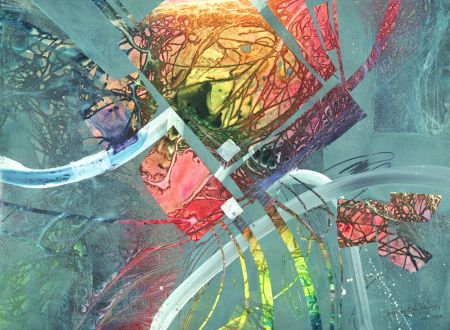 Mary Ann Beckwith | 3 Days | October 22-24 | Brush and Beyond | All Levels
Mary Ann's workshop "Brush and Beyond" is an art-altering experience! The energy filled days explore creative methods of watermedia application, including the building layers: texturing and collage. Participants learn new techniques and experiment with materials that allow them to better express their visions and ideas through their paintings and collages, whether those are representational or abstract imagery. Demonstrations and discussions focus on composition and design, how to recharge your work, sources of inspiration and the business of being an artist. Each day includes plenty of time for painting and optional critiques.
Mary Ann is a signature member of AWS, NWS, Watercolor USA, and many other societies, as well as the Executive Director of the International Society of Experimental Artists. She is the author of Creative Watercolor: a Step-by-Step Guide and Showcase. Her work has also been showcased in many articles in books and magazines. Along with her active and engaged role in the art community, Mary Ann creates and exhibits her art, juries shows, and teaches workshops across the country.
Mary Ann Beckwith lives on the beautiful, cold, snowy remote shores of Lake Superior, Michigan, where she has raised her family and taught art as a Full Professor at Michigan Technological University, where she twice has been honored with the Distinguished Teaching Award. Developing the artistic skills of gifted students was her passion during her tenure at MTU and she continues to support the endeavors of all students of art.
CWA Members $395, Non-Members $450. Here are the 2 documents for the class: Description and Supply List. Learn more about Mary Ann at her website: http://www.maryannbeckwith.org/.
Non Members Fee: $450.00 Members Fee: $395.00

To receive the Member Price, please log in, choose Workshops, then click the blue Sign Up Now button above. If you are not a CWA member, you may click the Sign Up Now button at any time.
Alternatively, you may print out the 2015 Registration Form, fill it out and mail it with your check to the name and address printed on the form.