Workshops - Bev Jozwiak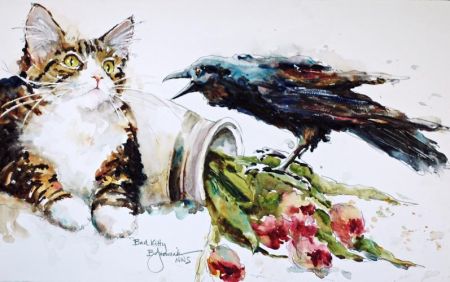 Bev Jozwiak - Painting Life with Life, March 16-18, 3 Days, All Levels
Painting life with life – as in people and animals, and as in energy and excitement: this workshop is a no-nonsense approach to watercolor. It focuses on answering many of the questions artists constantly ask: "Why is my work muddy? How can I loosen up?" It is designed to help students at every skill level, to master techniques, and work on design and color.
Paint boldly, think outside the box, and paint outside the lines! Bev teaches color mixing, including how to make luscious greens, glowing whites, great grays, and rich blacks. Bev also focuses on good composition and strong values. While she does paint figures, they are not portraits, as the views she paints could be from the back, side, or full face. Bev wants students to feel free to paint the animals or people that call to them, and helps them to look for the dramatic light on their images. She will give daily demos but will reserve plenty of time for students to paint, and receive help.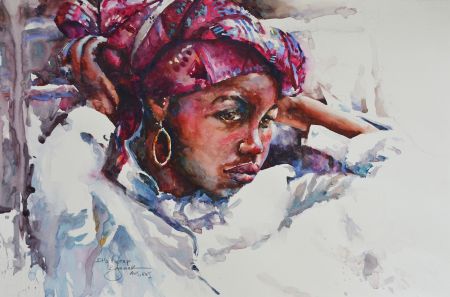 From a family of artists, Bev has always been involved in art, and graduated with Honors in Fine Arts. Alas, Bev did not know what to do with it, and so she took a job to pay the bills. An early midlife crisis prompted Jozwiak to recognize that she had always wanted to be an artist, and so she got serious in her 30's and started entering local shows - the rest is history. Per Bev, art is her joy and her job.
Jozwiak is a signature member of every major watercolor society, most notably The American Watercolor Society, The National Watercolor Society, Watercolor West and NWWS. She has had a plethora of magazine articles in everything from The Artist, Watercolor, American Art collector, to International Artist Magazine, and more. She is the author of a 164-page technique/coffee table book called Painting Life with Life.
Here are the workshop description and materials list for this class.

To learn more about Bev, visit her website at http://bevjozwiak.com/.
Non Members Fee: $450.00 Members Fee: $395.00

To receive the Member Price, please log in, choose Workshops, then click the blue Sign Up Now button above. If you are not a CWA member, you may click the Sign Up Now button at any time.
Alternatively, you may print out the 2016 Registration Form on our Workshop How to Register page, fill it out and mail it with your check to the name and address printed on the form.