Workshops - Frank Eber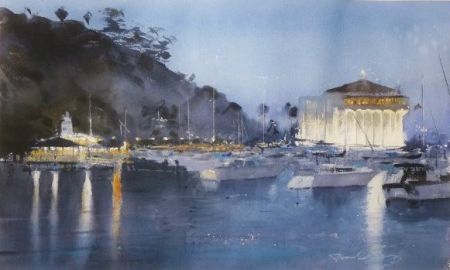 Frank Eber - Atmospheric Landscape in Watercolor, May 17-20, 4 Days, All Levels with some familiarity with watercolor
Frank Eber (AWS, NWS, TWSA, WW) is an award-winning artist who paints timeless art. A painter's painter, Frank Eber works in a direct, loose style influenced by the Old World masters. Typical in his art are color mixes and light that evoke nostalgia while remaining absolutely in the present. Frank's watercolor workshops reach beyond technique, encouraging individual expression and observing the elusive balance of forces that create beauty in painting.
Eber says that a good way to approach a drawing is to first draw in as true proportions as possible, then make a second drawing from the first, just drawing the essence of the first, omitting stuff. Simplifying is easier that way, since we no longer look at the original reference but already a 'version' of it. A drawing or painting is often more interesting when parts of it are left unfinished. The detail and finish in the other areas will have a bigger impact and stand out more.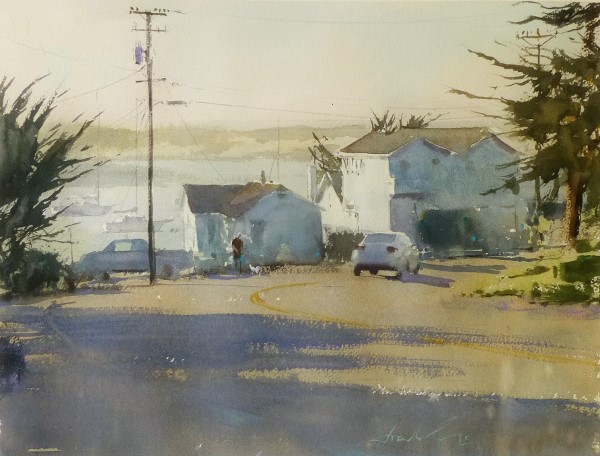 In this workshop, Frank will cover the topics of design and composition, color and lighting, positives and negatives, simplification of shape, and atmospheric effects. The techniques learned in Frank's workshop transcend the watercolor medium, as they are applicable to oils, acrylics, tempera, pastels, etc. Frank breaks up his demonstrations, thereby helping students keep up and absorb the lessons more effectively. All Levels welcome but some experience with watercolor recommended. This class will include one day of plein air.
In terms of subject matter, as Frank puts it, we paint best what we know best, but also we paint best what we truly love, as that love goes into the painting and others pick up on it. In his landscapes, every scene 'feels' different, early morning, midday, twilight…winter, summer, spring and fall. It is important to convey the feeling of the subject. Light and color set the mood in a painting. "It is one thing to copy nature but quite another to express her in a painting!" Keep the big message and not the little unimportant detail - the sweeping energy of a tree has, not the number of leaves.
Eber suggests that when working from a photograph, it's important to do a drawing of the scene first. By interpreting the scene in one's own way first, artists will paint a better picture than by copying everything in the photograph!

Frank is increasingly in demand as a judge and juror. He conducts workshops and demonstrations locally and at the national and international levels. He teaches classes, both in-studio and en plein air.
Eber was raised in Europe and mentored by Italian master painter Renato Casaro. In the '80s and '90s Frank worked as a professional illustrator and as a portrait artist by commission. His love for travel has given him prime opportunities to paint: he lived for three years in the south of France, and has painted on location in Italy, the Netherlands, France, Germany, Austria, Switzerland, and the Czech Republic. He has also painted in California and other parts of the United States. He lives in California now.

Frank is a Signature member of the American Watercolor Society, the National Watercolor Society, the Transparent Watercolor Society of America, and Watercolor West. He is also an Artist member of the prestigious California Art Club.
Here are the workshop description and materials list for this class.
To learn more about Frank, go to www.frankeber.com.
Non Members Fee: $550.00 Members Fee: $495.00

To receive the Member Price, please log in, choose Workshops, then click the blue Sign Up Now button above. If you are not a CWA member, you may click the Sign Up Now button at any time.
Alternatively, you may print out the 2016 Registration Form on our Workshop How to Register page, fill it out and mail it with your check to the name and address printed on the form.