Jean Pederson - Mixed Media Faces and Figures, September 19-22,

2016 -

4 days, Intermediate/Advanced
Jean Pederson's course will open the door into the exploration of various combinations mixed media with an emphasis on water soluble paints and mediums as they relate to the human face and figure. You will be encouraged work beyond your traditional practice in pursuit of your own personal language. We will be exploring how everything from watercolor to gouache, gesso, acrylics, inks, mark making tools, collage and much more can be applied to figure painting. Emphasis will be placed on design, personal style, live models and class work will be part of the course.
Jean Pederson has been painting for over twenty years, balancing her strong teaching abilities and writing with her continuing aspiration to convey her ideas in visual form. Jean's traditional practice includes referential imagery of people, still life, landscape and abstraction. In addition to watercolor, Jean uses the layering of a variety of media to create an assortment of possibilities within her work, e.g., quality of edge, line and texture all play a role within her imagery. Although a master of watercolors, mixed media has become an important venue for her creative expression.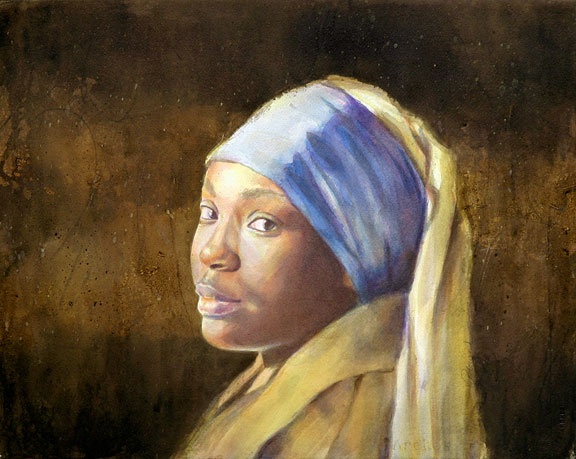 The portraits in her paintings are based on people who she has met or impacted her. These subjects in her paintings often reflect different walks of life as well as diverse cultural and religious backgrounds. We are hard pressed to find a period in time when the human figure wasn't represented. Finding a way to express the human figure in a language that reflects the twenty-first century is perhaps the greatest challenge in figurative work today.
Jean has exhibited her work internationally and is the author of "Expressive Portraits: Creative Methods for Painting People." Jean's second book, "Mixed Media Painting Workshop" was published last year by North Light Books. She is also a contributing editor for The Artists Magazine.
The Queen's Diamond Jubilee Medal is just one of the numerous national and international awards that Jean has received. In 2005, she was the first recipient of the Federation of Canadian Artists Early Achievement Award. This award was given in recognition of her many honors, awards, international writing to promote art education, and consistently exceptional painting.
Workshop location is east of San Francisco, on the Walnut Creek/Concord border, at Cal State East Bay. Details.
Here are the workshop description and materials list for this class. Please note that we will be using live models so students should have easels, preferibly floor easels, for this workshop.
To learn more about Jean, go to www.jeanpederson.com.
Non Members Fee: $550.00 Members Fee: $495.00