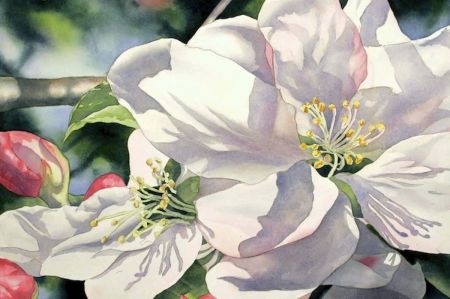 Birgit O'Connor - Fearless Flowers, May 15-18, 2017 - 4 Days, Advanced Beginner & Up

A self-taught watercolor artist, Birgit O'Connor specializes in florals and landscapes and has developed interesting techniques for painting rocks and sand. Finding inspiration near her home in Bolinas, California, her award-winning work has been recognized and published in over 24 national and international artist publications, including Australian Artist and International Artist Magazine. Birgit contributes regularly to Watercolor Magic, Artist Sketch, Watercolor Basics, and Artist magazine and has been featured in articles in The San Francisco Chronicle, Marin IJ, Pt. Reyes Light, and The New York Times. She is a member of the California Watercolor Society, Northern California Chapter of the Women's Caucus of Art, Marin Art Council, Bolinas Living Artists, Louisiana Watercolor Society, Who's who in America, and Who's Who in American Woman. Birgit has shown her work all over the world including a one woman show in Hong Kong.
Birgit has has been included in several books and has authored two of her own Watercolor Essentials and Watercolor in Motion, through North Light Books, Watercolor in Motion has been translated into Hebrew and is now available in Chinese Birgit and is available worldwide, she is currently working on her third book, scheduled to be released in 2017. She is an instructor for Artist Network University along with her own online workshops that can be found on her website.

In her workshop, Birgit will guide you step-by-step through the painting process, share how she studies her subject, and teach her techniques for simplifying a flower and finding the WOW factor that creates dramatic paintings. You will learn how to blend and mix color to give the illusion of depth by using a limited pallet. The techniques learned in this class are the same ones she uses for her larger 60"x120" triptychs, but for the workshop, you will be using 1/2 sheets for manageability. Advanced beginners and up are welcome!
As an artist Birgit strives to show that the seemingly delicate medium of watercolor can be bold, rich and dramatic. She is intrigued by showing others how to view the everyday world in another way by taking what is not first noticeable and bring that into focus to give the viewer a new perspective. To understand and see beauty and simplicity within complexity.
Birgit believes that painting it is not about what you see at first glance but it is more about the emotional connection to her subject. The form is the language and the content the voice. She feels that as artists we are here to share our gifts with others, and that art is a valuable healing experience for both the creator and the observer.
"At first glance you might think many of my paintings are just flowers, but if you look deeper into the shadows and under the folds of the petals you may find yourself being lead into your own imagination."
For more information on Birgit's workshops and her preferences for materials and supplies, visit her website at www.birgitoconnor.com.
Workshop location: East of San Francisco, on the Walnut Creek/Concord border, at Cal State East Bay. Details.
Non Members Fee: $550.00 Members Fee: $495.00