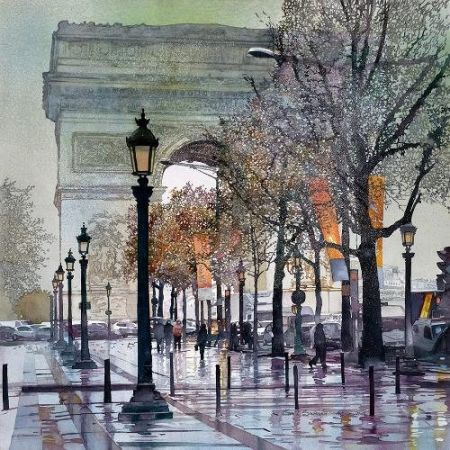 John Salminen - Realism Through Design, February 13-17, 2017 - 5 Days, Intermediate/Advanced
THIS WORKSHOP IS NOW FULL. SEE BELOW TO BE ADDED TO THE WAITLIST.
Award-winning artist John Salminen will kick off our 2017 workshop season with his workshop, Realism Through Design. In this workshop, John will share his approach to painting the urban scene in watercolor. John will help participants in all aspects of painting a representational cityscape or town scene – choosing the subject, adding mood and creating emotional content, lighting the scene for dramatic effect, using photo reference in a meaningful way and most importantly, strengthening and enhancing representational painting through design. The workshop will include demonstrations, critiques and lots of one-on-one individual help. Whether you've never tried painting cityscapes or are an experienced urban painter, this workshop will be an invaluable opportunity to gain new painting insights.
John has won more than 230 major awards in national and international exhibition, and is a signature member of numerous art societies, including the American Watercolor Society, The National Watercolor Society, the Watercolor USA Honor Society, the Transparent Watercolor Society of America and Allied Artist. He is an honorary member of the Jiangsu Watercolor Research Institute in China and is the first American honored with inclusion in the Australian Watercolour Institute. John has been an invited artist in over 38 international watercolor exhibitions and in several small group exhibitions in Pakistan, Turkey, Canada, Greece, China, Taiwan, Thailand, Russia, Singapore, Mexico, Italy, Turkey, Belgium and Australia.
John has served as judge and/or juror of over 65 national and international exhibitions, including the American Watercolor Society, the National Watercolor Society, the International Watercolor Society and the Shenzhen Biennial. He was a Judge of Awards for the Annual Competition of the Artist's Magazine and Watercolor Magic.
John's work has been featured in over 80 articles in national and international magazines including The Artist, American Artist, Watercolor, Watercolor Artist, L'Art de L'Aquarelle, and the Chinese Watercolor Journal. He has also been featured in over 25 books, including L'Art de L'Aquarelle – le LIvre, The Chinese book Inspirations: Secrets from Contemporary International Watercolor Masters, Art Journey America, Landscape and the Russian book Masters of Watercolor.
He is listed in Who's Who in American Art and Who's Who in America. He has released two instructional dvd's through Creative Catalyst Productions. John's work is included in many private, public and corporate collections of fine arts. He is represented by the Stremmel Gallery in Reno, Nevada.
For more information, visit John's website at http://johnsalminen.com/.
Workshop location: East of San Francisco, on the Walnut Creek/Concord border, at Cal State East Bay. Details.
Non Members Fee: $750.00 Members Fee: $695.00