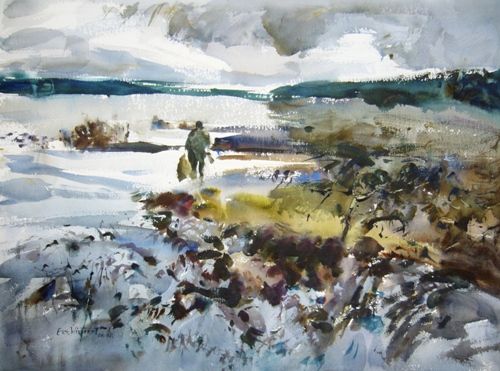 Eric Wiegardt, AWS-DF, NWS - Wiegardt's Painterly Watercolors
April 18-21, 2018 - 4 Days, Advanced Beginner to Advanced
WORKSHOP CANCELLED. We apologize for any inconvenience.
Eric Wiegardt, AWS-DF, NWS has left an indelible mark on both the American and International art scene. He is one of the few to be awarded both the GOLD MEDAL and DOLPHIN FELLOW from the oldest and most prestigious watercolor society, AMERICAN WATERCOLOR SOCIETY, NEW YORK. He has participated in numerous museum exhibitions throughout the US and China.
Eric has taught over 5000 watercolorists his popular "Wiegardt's Painterly Watercolors" workshops.
Over 4,000 original paintings have been collected privately and corporately including the US State Department, US Ambassador Alice G. Wells, Amman, Jordan.
Eric is a signature member of the American Watercolor Society (Dolphin Fellow), National Watercolor Society, Transparent Watercolor Society of America (Master Status) and others. He has been awarded the 2012 AWS Gold Medal of Honor, 2014 AWS Judge, among many other national and international awards. He has exhibited at both International Watermedia Shows in Nanchang and Shenzhen, China.
Eric has been featured in many publications, including Watercolor Artist Magazine, featured in "The Best Art of 2015", as well as cover artist for both The Artist's Magazine and Plein Air Magazine. He is the author of the book "Watercolor Free and Easy" and also has a video series titled "Painting Loosely from Photographs". Eric is a graduate of the American Academy of Art, Chicago.
Eric's workshops are designed to loosen up even the tightest painter and break the niggling detail habit. Painting loose is much more than a technique. It requires an understanding of specific design concepts in order to free one's mind. Each day, Eric will focus on one of these principles. He will show how to construct a beautiful painting in one sitting, and free creative thinking from cumbersome theories of color and composition. There will be time for individual instruction in a relaxed atmosphere. All levels of expertise and individual style will benefit from Eric's broad depth of experience.
For more information, visit Eric's website at www.ericwiegardt.com
Location: Cal State East Bay, Concord - Art Lab, 4700 Ygnacio Valley Road, Concord CA 94521 Details.
Non Members Fee: $655.00 Members Fee: $595.00