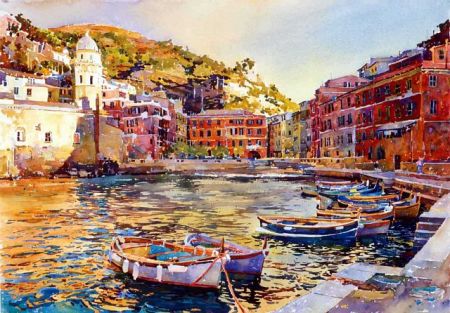 Steve Rogers, AWS, NWS, TWSA
Painting Light and Color in Watercolor
February 19-22, 2018 - 4 Days, Intermediate to Advanced
Steve Rogers was born August 18, 1947 in New York City. He attended Rollins College in Winter Park, Florida, and graduated with a Bachelor of Arts degree from Monmouth College in Monmouth, Illinois in 1969. His father, Henry Rogers, was a commercial artist who would often paint at home when Steve was a child. He studied in New York with artist Harold Stevenson who would go on to found the prestigious Stevenson Academy of Fine Arts, and later with legendary watercolor painter and instructor Robert E. Wood. Steve has made a career of painting since 1975. He lives at Ormond Beach, Florida with his wife Janet Rogers AWS.
Steve traveled to Greece for the first time in 1992 to teach a watercolor workshop and has returned to Greece, Italy, France, and Spain nearly every year since. These experiences have had a profound impact on the color, the sense of light and place, and overall direction of his paintings. "God is light. I John 1:5. I paint the light, which is a reflection of God's beauty, and it makes my work as an artist both joyful and rewarding." – Steve Rogers.
Rogers' work is represented in many public collections, including the Florida Senate Collection, The Orlando Civic Center, the Ocean Center Convention Center, Daytona Beach, the Orlando International Airport, the Museum of Arts and Sciences, Daytona Beach, and the United States Fifth District Courthouse.
In this workshop, Steve will give students the tools to create painterly and believable watercolors; but more importantly, he will take them beyond merely "copying" their subject. An artist needs to also paint from his heart and seek to communicate the emotional and spiritual beauty of God's creation." He paints and teaches in a very straightforward traditional manner because he believes he can most honestly say what he wants to with his brush and juicy watercolor paint. Workshop participants will learn about light and color and the way watercolor behaves, dealing with dark values in watercolor, painting reflections and much, much more. The goal of his workshop is to encourage each artist to advance his or her own vision and to improve the skills necessary to communicate that in watercolor. Steve has enjoyed teaching watercolor for over 30 years and both he and the students have a lot of fun during the workshop. Steve paints mini demos and full paintings and there is plenty of student painting time and personal help available every day.
To learn more about Steve, see his website at: www.watercolorsbyrogers.com
Workshop location is east of San Francisco, on the Walnut Creek/Concord border, at Cal State East Bay. Details.
Non Members Fee: $530.00 Members Fee: $470.00